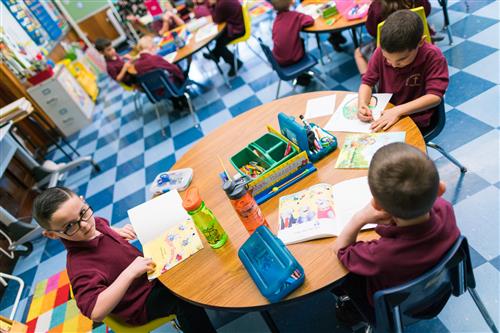 Registration Procedures
Register for the 2019-2020 School Year!

Registration for the 2019-20 school year for all school families, ECP through Grade 8 is now open!

As you know, Saint Joseph School offers a high-quality academic instructional program for each child in a faith-based, nurturing culture. Next year, we will continue to offer Early Childhood Program half and full day programs for three and four year olds, as well as a full day Kindergarten class. In addition, we offer an after school program for students in ECP through Grade 5. Our extracurricular activities include STEM/robotics, interscholastic basketball, drama, cross country, ski & snowboard, band and musical instrument instruction, cultural arts and field trips. We thrive on our partnerships and involvement with our parents.

We hope that your family will remain a part of our Saint Joseph School family next year!

As an incentive to returning school families to register early, which is a significant help to us in setting next year's budget and tuition rates, we will maintain in effect last year's $150 non-refundable registration fee per family for all returning school families who complete their re-registration by January 25, 2019.

After January 25, 2019, the non-refundable registration fee will increase to $250 per family. We have reviewed the registration fees charged by other schools in our area, and $250 per family is still among the lowest.

The $250 registration fee will apply to all new registrations and to returning school families who re-register after January 25, 2019. Please complete your registration by January 25 to take advantage of this $100 incentive! Click below to download the registration form.

You may pay your registration fee through your FACTS account. Please check where indicated on the registration form if you wish to do so. If you make this election, your registration fee will be deducted from your FACTS account approximately 10 days after you submit your completed registration form, but not earlier than January 25, 2019. In the alternative, you may include a check payable to Saint Joseph School with your completed registration form.

As an incentive to our current school families to help spread the word about our terrific school, we offer a $150 credit against your tuition for each family that you refer to our school that actually enrolls.

Due to the outstanding work accomplished by our Fundraising Committee and school families, our expectation is that we will be able to continue to keep our tuition among the lowest in the area. By receiving your registration in a timely manner, we will be able to set tuition rates for the upcoming school year earlier than in prior years. We will make you aware of tuition information as soon as it becomes available.

If you would like to apply for financial aid for the 2019-20 school year, please complete the financial aid application form on the FACTS website. Please contact Maureen Miller with any questions relating to financial aid.

We thank you for your support of our school and we look forward to your family continuing with us next year! Please contact the main office with any questions regarding registration or our school at 781-245-2081.