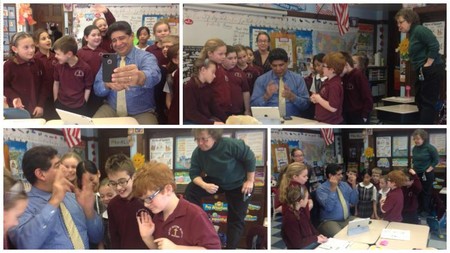 LADD Program
The LADD (Learning About Differences and Disabilities) Program, coordinated by parents, is offered to students in Grades 3-4 and fosters an understanding of people with special needs. The classes meet for two sessions in the months of January, March and May learning about hearing, vision, and physical disabilities. The first session of each LADD lesson includes information and activities about the disability, and in the second session, the students get to meet and ask questions of a person with that disability.

In January, Grade 3 and Mrs. Ellis enjoyed a terrific LADD Program with their guest Edgar who uses sign language which is relayed to the class through his interpreter, Gail. The class asked Edgar so many great questions that he stayed for over an hour! Edgar even showed the class how deaf people can communicate with smart phones and iPad technology. The students were fascinated by the presentation and we feel very blessed to have the LADD program at our school!

In March, Grade 3 enjoyed a wonderful presentation about how a guide dog assists a blind person. Sue Christensen visited the class with her 4 year old guide dog Tilly, who goes everywhere with Sue, including riding daily on the train to where Sue works for the Commission for the Blind in Boston. Students learned that the ONLY place a service dog is not allowed is inside an operating room! At the end of her visit, Sue removed Tilly's work harness and each student got the chance to pet her. The class followed up the visit by working on a full packet of activities about Braille, guide dogs and ways to help people who are visually impaired.