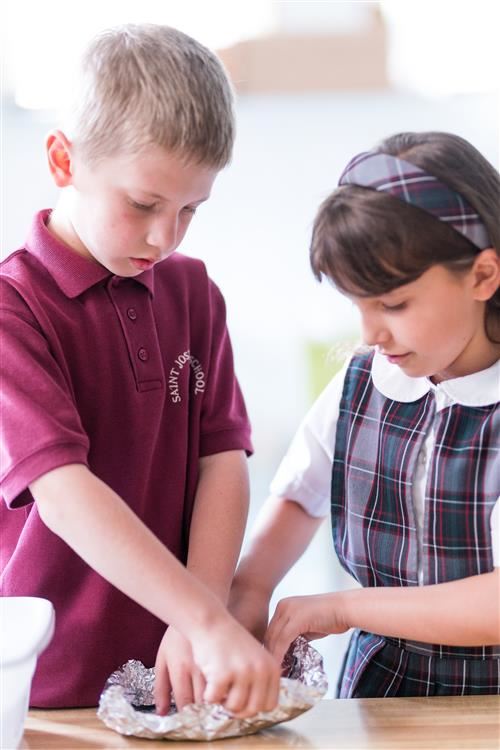 Mission Statement
The mission of Saint Joseph School is to prepare our students to use their minds well through a system of structured learning experiences that instill graduates with the character, integrity, knowledge and skills necessary for achievement in the 21st Century. To accomplish these results, we foster a supportive, faith-based Catholic learning environment where instruction is purposeful, engaging, and relevant. We promote positive relationship-building and personal attention while encouraging and supporting self-reliance and problem-solving for life-long success both within and beyond our School and Parish communities.

Saint Joseph School Provides Academic Excellence

Saint Joseph School, which is accredited by the New England Association of Schools and Colleges, is staffed by a certified, dedicated faculty. The administration and faculty promote a stimulating, nurturing environment, which sustains a solid enrollment. The strong faith-based curriculum at Saint Joseph School is enhanced by numerous after school enrichment programs including robotics, basketball, cross country and band.

Saint Joseph School Develops Well-Rounded Students

Saint Joseph School offers a multitude of opportunities for students to further develop their athletic and social skills. The school has a girls and boys basketball program for students in grades 5-8. School field trips, retreats, environmental programs, cultural arts and family events help the students to experience and appreciate the world around them.

Saint Joseph School Cultivates Faith-Filled Disciples

Saint Joseph School strives to ensure that its students believe and live the Goodness of God with all persons they encounter. Formal religious education classes, Monday morning praise & worship, sacramental preparation and annual retreats ensure that the students understand that their Christian faith is at the core of their education and their life. The Middle School includes a service program, which enhances the student's Faith development through the active service of others.