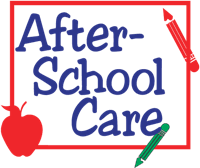 After School Program
Welcome, and thank you for choosing Saint Joseph School After School Enrichment Program, located here at Saint Joseph School. We offer a safe, enriching environment packed with lots of fun! Students in the program are provided a variety of opportunities to explore, interact and learn through play and social activities such as Arts and Crafts and more. The program is filled with both outdoor and indoor activities.

The After-School Program is available for students in our Early Childhood Program Monday through Friday (with the exception of early release days) from 2:30 - 5:30 p.m.

Tuition for the After School Program is generally $35 per day for the first student and $20 per day for each sibling.

The cost for students who are picked up by 3:15 p.m. will be $10 per day

Our After School Program is a fun and enriching experience for our students!

Indoor activities will include board games, cards, puzzles, arts & crafts and more.
Outdoor activities will include structured, supervised sports and games.
Students will be able to make use of multiple rooms in the convent to suit their ages and activities.
At all times, we will have 2-3 staff members working in the program. This will enable us to provide appropriate supervision and support for students of all ages.

Please contact Mrs. Annette Hinds ahinds@stjosephschoolwakefield.org to learn more about the program and to apply .

We hope that you and your children will love our program!