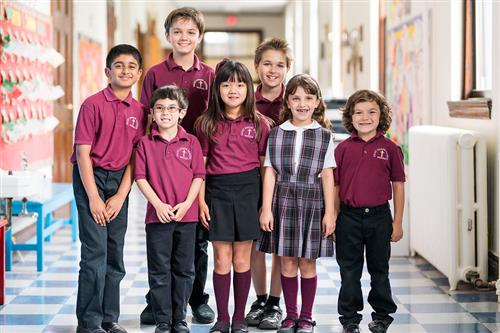 School Uniforms
In order to help create an environment conductive to learning, students at Saint Joseph School are required to wear simple uniforms. This policy is designed to permit students to focus their attentions on academics and on those aspects of their personalities that are truly important.

Uniform Policy:

Please review the school uniform requirements specific for each grade at the following links:

Uniforms must meet the requirements of the policy in terms of color and style. Students may not change out of their uniform before 2:10 unless required for SJS away sports events.

Uniforms/Hair/Make-Up:

Pants, skirts, shorts and skorts must be of appropriate length (knee-length).

School shoes as well as sneakers must be kept clean and in good repair.

Students must keep their hair neat, clean and out of their eyes.

Students must not wear drastic or unnatural hair colors or styles or have a hairstyle that could be distracting to other students.

Boys hair must be kept clean and short, cut above ears and collar.

No coloring, dying, lightning or streaking of any sort is allowed for boys or girls.

Hair elastics must be worn in the hair and not on the wrist.

Only neutral hair accessories consisting of black, grey, brown, maroon, tortoise shell or the Uniform Plaid are acceptable.

Pale pink or clear nail polish is the only accepted nail polish for girls. Artificial nails are not allowed.

Students are not allowed to write or draw on themselves.

Bandanas or hats are not allowed during school hours.

All hats worn to school must be removed inside the school/ church building.

No platforms, high heels or sandals are allowed.

Shoes with a rise must be continual from toe to heel.

No boots of any sort are allowed for boys and girls. During winter months boots may be worn to school, but must be changed immediately into shoes

"Heelys" or similar sneakers/shoes are not allowed.

Only Maroon or Black Socks must be worn at all times and must not have excessive logos on them.

Belts may not be decorative in nature (i.e. metal rivets or studs).

Jewelry/Accessories:

For safety reasons, the only jewelry permitted will be simple stud earrings or small hoops worn in the ear lobes only and no more than two studs per lobe.

No piercings are allowed for boys.

The only necklaces acceptable must be simple and/or religious in nature.

The only bracelets must be simple and/or religious in nature.

If worn, only one bracelet is allowed and must not pose a safety risk to student or peers.

No jewelry is allowed during gym class.

Only clear prescription contact lenses are allowed.

Dress Down Days:

All aspects of the uniform policy are in effect with the exception of clothes and shoes only.

Pants, skirts, shorts and skorts must be of appropriate length.

Short shorts are never allowed.

Tank tops or spaghetti straps are not allowed on girls.

Pajama bottoms cannot be worn.

Shirts must be appropriate length and not have any logos or writing on them that would be deemed inappropriate.

Midsections must not be seen.

Shirts must have sleeves.

Students not in compliance will forfeit the privilege of participating in the next dress down day.

No ripped or torn clothing.

Shoulders must be covered in church.

If leggings are worn, a tunic length shirt must also be worn

Uniform Infractions:

To ensure that the School's Uniform Policy has its desired effect, it is important that it be implemented consistently. The school's academic team will attempt to resolve all uniform infractions in a simple and amicable manner with the student and parents. The policy will be enforced consistently for all students.

Where to Purchase:

Uniforms are required to be purchased at Collegiate House. You may shop in person, by phone or online. Click here for instructions on ordering.