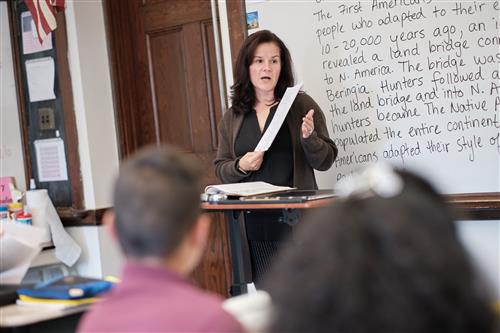 Parent Testimonials
"From the moment we attended the open house at St. Joseph School in Wakefield, we knew this was where we wanted our kids educated. St. Joseph School Community is warm and inviting. Teachers are kind, thoughtful and on top of things. My kids started in Kindergarten and Pre-K. People wondered why we would pay for an education at this young age rather than just save the money to send the kids to a good college. Our feeling was that if we give them a good start the rest would come.

Not only did our children receive an excellent education but they were taught to be good, kind and considerate people. There is a "buddy program" which partners older kids with younger kids. The younger kids enjoy the company of the older kids and the older kids learn how to be patient, kind and giving. There were many wonderful programs provided at the school, but this is probably our favourite. Christian Service is also a great program at the school. The kids learn to provide for and volunteer for various different programs; whether they were raising money for different causes or donating to the food pantry or toys for underprivileged kids, our kids were learning that not everyone is as blessed as they are.

The school offers the opportunity for presentations to the kids on different career paths. On one such occasion two soldiers came into the school and spoke to third graders about their career paths. Our son was so impressed that he came home from school and said he wanted to join the marines; then he came home and said he wanted to design equipment to keep our soldiers safe; lastly he came home and said he wanted to design prosthetics that would eventually be able to be controlled by the brain. He has continued on that path as he has advanced to university.

Education wise my kids were well prepared for their futures in high school. High school teachers commented on how well prepared our kids were in various subjects."

- Veronica & Steve F.

----------------------

"We chose St. Joseph's School for a multitude of reasons. On our first time visiting, it was a simple wooden bench that caught our eye. This first visit was with Mrs. Flynn who took us on a tour of the building. We noticed an old fashioned bench on the first floor holding student lunchboxes. My husband pointed them out, asking "What's that?" Mrs. Flynn just stated that they were student lunches. These lunches were sitting right out in the open. My husband (a public school teacher) could not believe it. Next he questioned, "Nobody steals them? No one swipes them?" Mrs. Flynn stated, "No. The students are trustworthy here. No one steals here." Again, my husband was aghast, clearly not understanding how these simple lunches could sit out in the open all day on a bench. "You really can leave these all day and no one steals them?" "Yes!" said Mrs. Flynn. This is how it is at St. Josephs."

This simple bench was holding more than lunchboxes. This old fashioned bench held the values and honor that are a part of the daily school life at St. Josephs. We knew by seeing this bench how a St. Josephs education would be different and special from any public school experience. Every time I see that bench today, I just smile. I know how my child is being taught.

Public Schools teach the basics. In contrast, Catholic Schools teach the divine. There is nothing like a Catholic School upbringing. The message of faith, unity and most of all God's love is the essence of each day. Our child has learned about all of this and more from day one.

When our son arrived at St. Josephs, Mrs. Ellis made him feel loved from his very first day at school. He still tells me, "Mom, I was so lucky to have Mrs. Ellis!" Boy is he right! Mrs. Ellis was the answer to our prayers. She simply loved to teach my child, and he blossomed because of her. He learned a whole lot more than third grade curriculum. He learned to love Jesus too! God bless Mrs. Ellis!

Recently, our son reminded me by sharing Mrs. Ellis' famous phrase, "Mom, try your best, and let God take care of the rest." For our child to remember his third-grade teacher's wisdom, this memory is truly priceless."

- S. Fazzolari

----------------------

"After attending Catholic school for 12 years growing up, it was important to me that my daughter have a faith-based education. As an only parent, raising my daughter alone, it was even more important that we find a community to help me in this important endeavor. I found that in Saint Joseph's School in Wakefield. I know that Veronica is getting a top education, a faith-based education in a safe, caring environment and that I'm fully supported by our community. "

- Christine P.

----------------------

"We searched for a pre-k with a nurturing school environment rather than an extension of a daycare. What we found at St. Joes was more than we could have dreamed. We found a school family we could grow with beyond pre-k through our daughter's school years. Involved parents, bright loving teachers, and an easily accessible and approachable administration continue to show us how great our decision truly was."

- Melissa R.

----------------------

"Saint Joseph School offers excellent academics in a loving, faith-filled setting. The teachers and staff are truly dedicated to helping every child develop to his or her full potential academically, spiritually and socially. Parents are encouraged to participate in all aspects of their child's education in a true partnership with teachers and administration. The small size fosters a warm, supportive and vibrant community. Our family feels blessed to be a part of Saint Joseph School."

- Siobhan M.

----------------------

"I truly believe that it takes a village to raise child. As a family with both parents working full-time and no other family in the area, we need a surrogate support system to make sure our children grow into kind, independent, creative adults with a passion for learning. We immediately felt that St. Joseph School was this type of environment even before Kindergarten officially started. Our daughter has thrived with the support, challenging academics and love she receives daily. The St. Joseph village has exceeded our expectations and we feel lucky to have found our extended family."

- Mary & Bill W.