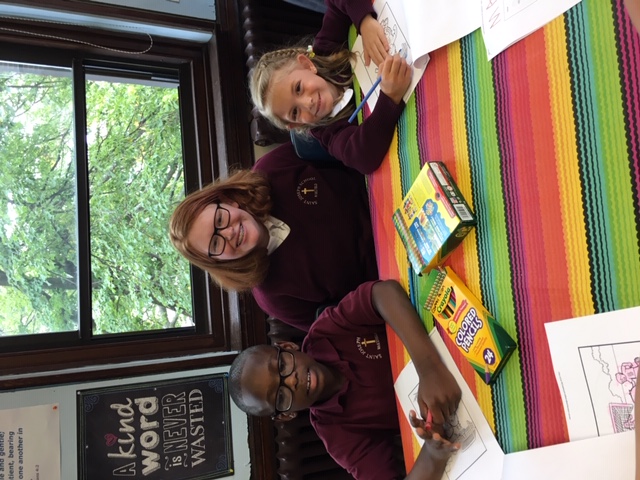 In School Student Activities
To foster a well-rounded education, we offer many programs and activities to our students. Programs provided by the school include:

Physical Education: All grades participate in gym weekly. Our energetic Gym teacher Mrs. Condon finds fun ways to keep the kids active through sports and games. A schedule is published close to the start of school informing parents which days are gym days (split by grade) for uniform purposes.
Art Program: Students will have 1 scheduled art class each week. Under the direction of artist and educator, Philip McGaw, the Saint Joseph School art curriculum for Kindergarten through Grade 8 is centered around learning the elements of art and design. Throughout this structure, discussions and activities include an incorporation of art history, color theory and critical thinking, often incorporating subject matter which is of specific interest to a particular class.
Music Program:

The goal of our music program is to teach age appropriate music and music theory in a fun, positive, and interactive environment.

Each class will have a scheduled music lesson every week with our Music teacher Mrs. Burton. They will also prepare for many concerts throughout the year.

Buddy Program: Each student in the lower grades will receive a "buddy" in the upper grade for the year. Older Buddies will assist the teachers in walking the younger kids to Mass, celebrate Holidays and do fun activities together on Friday afternoons. This all helps foster the relationship between our younger and older students.
LADD Program: This program is offered to students in Grade 3 and fosters an understanding of people with special needs. The classes meet in the months of January, March and May learning about hearing, vision, and physical disabilities. The first session of each LADD lesson includes information and activities about the disability, and in the second session, the students get to meet and ask questions of a person with that disability.
Field Trips: Field trips can be of enormous educational and cultural value. They are provided as an extension and enrichment of the curriculum. Parents will be given ample notice to meet any financial requirements necessary and to volunteer as chaperones. Parents are expected to sign permission slips for each trip and return them promptly to the school. Field trips are arranged at the option/discretion of each teacher and the permission of the principal.
Casual for a Cause: Once a month we let the students dress down in return for a $1 donation to a charity of choice.

Birthdays: Celebrating life is one of our greatest joys! Birthdays are announced daily over the school intercom for everyone to cheer. Children have the opportunity to have their picture taken and placed in their special birthday button. Birthday treats for the classroom are encouraged but are to be kept simple (e.g. cookies, cupcakes, etc.)
Special Events: During the school year, we also hold special events such as our annual Halloween Party, Thanksgiving Feast, Christmas Concert, Grandparents Day, May Procession, Poetry Contest, and Field Day.