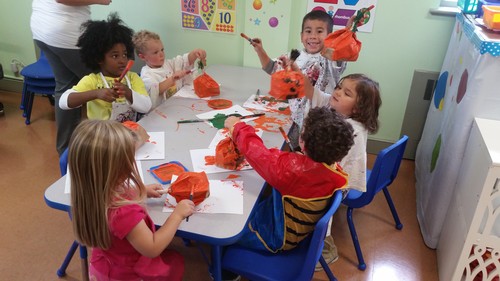 Under the direction of artist and educator, Philip McGaw, the Saint Joseph School Art curriculum for Pre-Kindergarten through Grade 8 is centered around learning how to develop creativity through artistic endeavors. The role of Art Teacher is to facilitate the student's own innate creative ability. It is the role of the instructor to design tasks wherein the students is able to discover their own creative talents through a variety of activities.

Drawing, Painting, Printing, and sculpture are used to provide a variety of media for students to work within. Activities are introduced with references to historical contexts in order to encourage critical thinking. Emphasis is not only on the student's own creative skills in relation to Art, but also on the relationship of creativity being a mental state that translates into all aspects of life outside of the classroom.

Materials used include crayon, pencil, colored pencil, marker, charcoal, pastels (chalk and oil); watercolor, tempera, and acrylic paint; paper, cardboard, and clay sculpture; printing, collage, and die-cutting. These techniques may be used in combination upon student requests or upon teacher recommendation.

Each lesson is presented so that expectations are age-appropriate, from Preschool and above. Stretch goals are attempted to introduce advanced concepts, but students are encouraged at whatever level they have achieved. The priority of the program is to introduce the children of Saint Joseph "School to a study of the Arts so that learning comes easily and is fun.